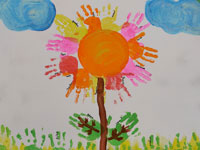 The ability to create and then communicate your creation is a wonderful skill that can be easily overlooked in our world.  But at Clearwater Academy we recognize this ability as a significant part of a well-balanced education and fulfilling life.
Our students start in preschool learning music and the joy of creating a visual art piece. Just walk into our preschool anytime and you will see the walls covered with the students' artistic achievements. This education continues through all of our grades and is expanded on when students reach the fourth grade and can choose an elective that enhances their emerging talents.
Each year Clearwater Academy hosts our much loved Festival of Arts. For three nights artwork from all our students throughout the year is displayed as well as a musical play is performed by our Performing Arts students.